Australia's stars could be rested this summer to spend time with their families while state players could be away in hubs for up to two months, as part of a raft of measures the game is exploring for the country's first season in the COVID-19 world.
As the country's white-ball players prepare to travel to England, the first tour by an Australian national team since the onset of the pandemic, their colleagues back home remain in the dark as to what they are actually training for a month before what would normally be the start of the domestic season.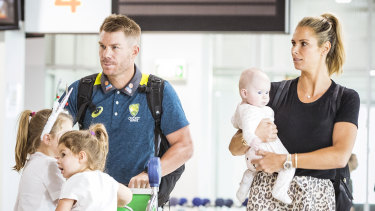 Australian stars, like David Warner, may be given time off to spend with family this season.Credit:Chris Hopkins
Langer said CA would closely monitor players' mental health, especially those less experienced with living out of a suitcase.
The entire Australian season is also up in the air, and no one can be certain how closely the eventual schedule will match up with that released just under three months ago.
There is a belief among some state cricket bosses they will be without more national stars than usual due to the need for expanded squads to work around likely biosecurity measures that will restrict travel and curb the ability for replacements to fly in at short notice.
Langer, the coach and selector, cannot rule out a repeat of the scenario leading into last year's Ashes, at which the country's best 25 long-form players squared off in a practice match for places in the Test squad for this summer.
This would in turn affect the quality of talent available for state cricket and the Big Bash League, scheduled to start in early December with the Tests against India. Langer says compromise will be the key in 2020/21.
"If we've got to have bigger squads because we can't have guys coming in and out, 12th and 13th men playing Shield cricket which is unlikely to happen, there's a compromise, that will take some of our best players out of our domestic competition," Langer said.
"If we play the full domestic schedule, we might have to compromise on that – the costs to the game, we can't let that blow out because that's important for the health of the game.
"Might be compromises in the domestic schedule, that's being worked through at the moment. We might not be able to see our families because we need to keep the show on the road.
"Some of our best players might have to miss some international cricket so they can spend some time seeing families."
States remain unsure when the Sheffield Shield will start, with a range of scenarios being currently discussed by cricket authorities.
One option looked at would see players spend 50 to 60 days away, including two weeks in quarantine. This is at the top end in terms of length, with factors such as how stringent quarantine conditions are and level of family access to determine how much time players will be away.
CA needs approval from the Australian Cricketers' Association, which has previously indicated players are willing to spend periods in hubs in order to get the domestic season away.
While states are working under the notion of minimising travel and maximising play, there is a belief the Shield can start no earlier than October. Factors such as medical advice, border closures and finances could determine how the competition is held.
Sport newsletter
Sports news, results and expert commentary delivered straight to your inbox. Sign up to the Herald's daily newsletter here and The Age's weekly newsletter here.
Source: Read Full Article