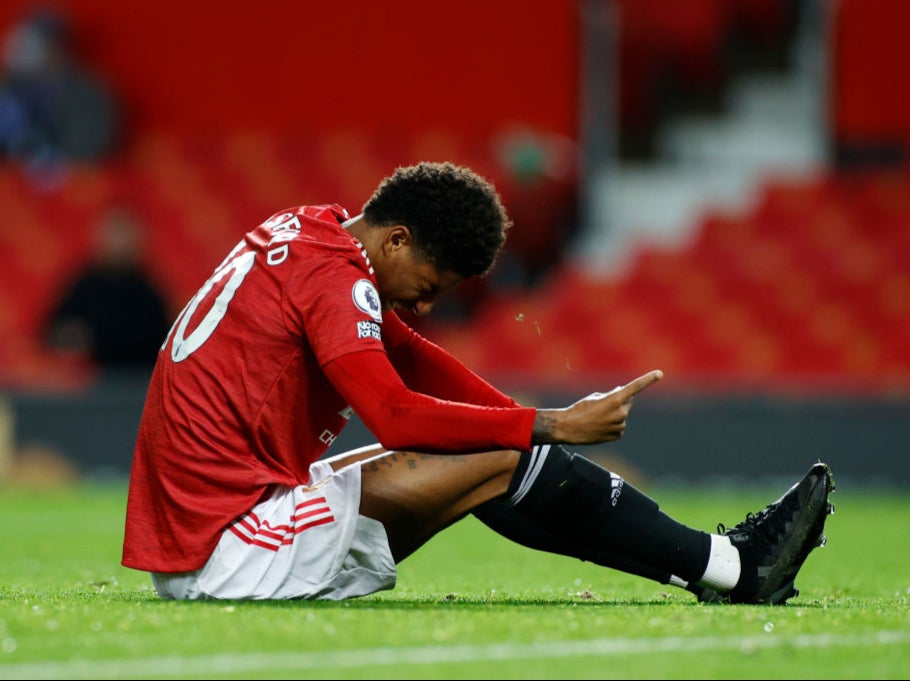 Marcus Rashford goes down in the penalty area against Man City
United have scored 40 goals after 19 games in all competitions this season, compared to 27 at the same stage last year. And they have 19 goals in the league after 11 games, six more than they did after the same number last season.
So why have just three of their 19 top-flight goals come at Old Trafford? Solskjaer had a convincing theory: that it is not only down to the quality of opposition they have faced, but also the conservative approach that those opponents have taken.
"I think bigger teams have set their stall out to defend against us and they're happy with a draw," he claimed.
"If you look at Chelsea, they came with a back five and defended. They were happy with a point. Arsenal were happy with a point and got lucky with a penalty. Manchester City had more respect for us than we've had before."
All three of those examples check out. Even Tottenham, in their devastating 6-1 victory, were content to deny United space in behind, soak up what pressure came their way and punish them on the counter-attack until Anthony Martial's red card allowed them to run wild.
Compare Chelsea's innocent, attack-first approach on the opening day of last season in a 4-0 defeat with their much-more streetwise display in October. Unai Emery's Arsenal took more shots in their 1-1 draw at Old Trafford than Mikel Arteta's did in their 1-0 victory.
And then there is City, who on Saturday were described as "a shadow of the team that won the league two years ago" by Gary Neville.
Their muted performance should not come as a surprise. City are playing in a noticeably more conservative manner this season, seeking greater control and sacrificing some of their usual attacking verve as a result. This was their sixth consecutive clean sheet in all competitions.
Barely a post-match press conference goes by without Guardiola praising his side's greater defensive solidity and ability to limit opposition counter-attacks these days. Saturday was no different.
"We struggle to score goals so we have to be solid, in terms of controlling the game and not conceding counter-attacks," he said. "I'm so proud. [United] is a team who kill you. When you let them run, when you are not attacking in the proper way, they kill you."
Guardiola allowed United the space they crave last year. This year, he refused to make the same mistake.
And so whereas Paris Saint-Germain and RB Leipzig came to Old Trafford and played their own game, United's domestic opponents of a similar calibre have adapted theirs. Solskjaer's analysis – that "good teams come here and are happy with a clean sheet" – is correct. And that's a problem for United.
Under his management, United have generally impressed in big games which suit their preference for counter-attacking, low-possession football, but they have long-established issues with breaking down mid-table and bottom-half opponents.
That may be changing, if the five straight away wins against Brighton, Newcastle, Everton, Southampton and West Ham are anything to go by, but those displays were not entirely convincing and these remain early days.
Meanwhile, at home, they are not having the same success against quality opponents. Compare and contrast their Old Trafford results against the top-six this season with last year's corresponding games.
Having taken 10 points at home against Tottenham, Chelsea, Arsenal and City in 2019-20, this year they have taken just two. Rather than nine goals, they have scored one. Their expected goals in the games have halved.
Solskjaer's top-six rivals appear to know how to go to Old Trafford, limit his chances to hurt them on the break and come away with at least a point.
The lack of goals from open play at home is in part just a quirk of the schedule and should be corrected once more porous defences visit, but the lesson from United's struggles at Old Trafford so far this season is that they are finding it more difficult to beat the very best.
Source: Read Full Article