As if Australia hadn't already inflicted enough pain on Peru. Now the Socceroos are poised to snatch a talented prospect from right under their noses.
In the four-way battle for the allegiance of Alex Robertson – the teenager from Maroubra who has just signed a three-year contract extension with Manchester City, and is currently training full-time with their first team under Pep Guardiola – it appears the green and gold has the inside running.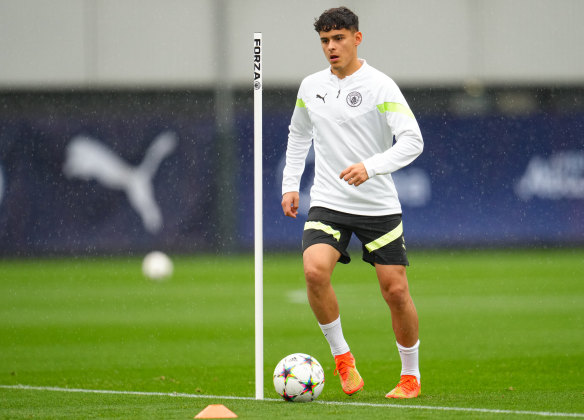 Alex Robertson is fit, firing and back training with Manchester City's first team.Credit:Getty
Robertson, 19, is in line to become a third-generation Socceroo, taking after his father Mark, a former professional, and grandfather Alex, who also represented Australia. But he is also eligible to play for Scotland, where he was born while his Dad was on the books at Dundee; Peru, where his mother is from; and England, where he has spent most of his teenage life and has already pulled on the national colours in three junior age groups.
While he's not ready to officially close any doors just yet, as he bids to get his career back on track after an ill-fated loan move to Ross County and an unfortunate run with injury, Robertson is happy to make it clear where his heart lies.
"Australia is my home," he told the Herald and The Age.
"I wouldn't class any other place as my home, apart from Australia. I grew up there since as a young boy, I know everything about where I'm from and, obviously, my Granddad and my Dad played for Australia – so for me, if I was to do that, it would be a really proud moment for my family and for myself."
Alex Robertson (left) is training with the world's best players, like Erling Haaland, every day.Credit:Getty
Robertson had to confront his split loyalties in June, when the Socceroos beat Peru on penalties to clinch their spot in the World Cup. Shootout hero Andrew Redmayne, the 'Grey Wiggle', has since become a major public enemy in the South American nation, where circus performers and matadors have lampooned him in costume in front of crowds of thousands in Lima.
"I was watching it on the telly," Robertson said. "It was a bit of a weird one, watching two countries that I can play for play against each other, but Australia secured the win, which is really good."
There is a constant clamour of messages on Robertson's social media accounts urging him to pick Peru, from fans who now see him as a way of getting payback over Australia. Indeed, there were inaccurate reports from Peru earlier in the year suggesting he had done so.
With the FIFA Under-20s World Cup in Indonesia coming up in May, and with England also in his ear about a prominent role in that tournament, Robertson will have to make a final call soon enough.
"It's very hard, but with the right people around me and the right support, I think I'll make the best decision," he said. "All the countries have different feels to me. I haven't played for England in the last year, obviously due to not playing [at club level] with injuries. But if Australia come knocking for the World Cup, then it would be very hard to say no, and I'd have to have a massive think about it."
Robertson is yet to talk to coach Graham Arnold, but "he briefly spoke to my Dad a couple of times – I think he knows my Dad a bit, but I'd like to have a chat with him and just see where things are," he said.
Alex Robertson's six-month stint on loan at Ross County was spent mostly on the bench, or out of the team.Credit:Getty
A World Cup call-up might sound farfetched, based on his paucity of senior playing experience – but then again, Robertson is now rubbing shoulders with Erling Haaland and Kevin De Bruyne, training daily in one of the most elite environments in football. It may ultimately depend on how Arnold wants to compose his squad, and whether he can find scope to use the three extra spots in his 26-man squad to help win over future talents like Cristian Volpato, Alessandro Circati and Robertson – all highly rated but unproven players who are eligible for other countries.
Guardiola is reportedly a big fan of Robertson, and had personally called for him to begin training with City's first team two years ago. The box-to-box midfielder spent five years in their academy, during which he was named by The Guardian as one of the world's top 60 young talents, but moved on loan to Ross County for first-team experience in the Scottish Premiership at the start of last season.
He had been lured there by manager Malky Mackay, who Robertson said had been trying to convince him to play for Scotland for several years. But he only started one game, and played a total of 144 minutes.
"I liked the chat I had with him beforehand, it was really positive, and then when I got there, it just didn't play up to what it was," he said. "I just wasn't playing – I was on the bench, I'd come on a few times, and then I started to get left out of the squad. I'm not really sure why, but it's part of football, it's part of learning.
"But I think it was one of the best things I've done because now I know how to deal with stuff like that from managers … on the football side of things, it could have been better, but we've got to take what we can out of it and then just move on."
Upon his return to Manchester, Robertson tore his hamstring. Only now fully recovered, he played his first game back for City's under-23s earlier this month, and followed it up with a goal in his next game. Another loan stint is probable again in January, given how difficult it is for any player to break into Guardiola's team, let alone a teenager from Australia – but until then, he plans to soak up as much as he can from his world-class training partners.
In one recent session, he was asked to track De Bruyne's runs. "Tried to," Robertson laughed. "Even in training, it's just … it's a joke. It's really good learning for me."
Haaland? "Different breed. He's a very good player, especially when it comes to game day – he just loves to score, doesn't he? It's everything about him, he's just focused. One of the best."
Guardiola? "He's so in love with football. He pays attention to so much detail. And he's a legend of the game – he's the best manager in the world. It's a privilege to be able to train under him, and learn stuff off him.
"But everyone, obviously – they're seasoned professionals. I'm only 19 years old … they've been doing it for a lot longer than me and they kind of know how it goes.
"It's something you dream of, playing with the best players in the world. Growing up in Australia, you watch some of these players on TV, and now you train them. It's a bit of a mad thing, really."
Watch every match of the UEFA Champions League, UEFA Europa League and UEFA Europa Conference League on Stan Sport.
News, results and expert analysis from the weekend of sport sent every Monday. Sign up for our Sport newsletter.
Most Viewed in Sport
From our partners
Source: Read Full Article