It all began at Leyton Orient of all places, but now there are a host of online soccer tournaments springing up involving some of the world's top players, clubs and leagues in lieu of the real thing.
Thousands of competitors are going head to head on FIFA 20 and PES 2020, with some big names also pitching in to help aid the fight against the coronavirus pandemic that has shut down football and most other aspects of normal life across the globe.
Euro 2020 postponed until next year? No problem, watch it play out online right now! Missing La Liga, the Bundesliga and MLS? Fear not! There are esports versions being played out across a host of social networks.
– Stream ESPN FC, 30 for 30 Soccer Stories and much more on ESPN+
– Stream new episodes of ESPN FC Monday to Friday on ESPN+ (U.S.)
Here's our comprehensive guide to the best of the quarantine-friendly competitions taking place at the moment.
EA Sports FIFA 20 Stay and Play Cup | eMLS FIFA 20 Tournament | The Football's Staying Home Cup | Virtual Milan Derby | La Liga Challenge | UEFA eEURO 2020 | All At Home Gaming Cup | Bundesliga Home Challenge | eMLS Friendly Series | eLiga MX | Restez Chez Vous Trophy | The STAY INtertoto Cup | Ultimate Quaran-Team | Combat Corona | Friday Night FIFA
EA Sports FIFA 20 Stay and Play Cup
When: The competition runs April 15-19.
Who: EA Sports have organised their very own FIFA knockout tournament that will see nominated footballers from 20 of the biggest clubs in Europe go head to head.
Why: As part of the proceedings, EA Sports has vowed to donate $1 million to Global Giving's Coronavirus Relief Fund.
Where: Games will be broadcast live on ESPN2 and the ESPN app in the U.S, and streamed via EA Sports' official FIFA Twitch channel elsewhere.
Why should I care?: There are professional players representing some of Europe's elite clubs, including Ajax (Sergino Dest), Atletico Madrid (Joao Felix), Chelsea (Cesar Azpilicueta), Dortmund (Achraf Hakimi), Liverpool (Trent Alexander-Arnold), Manchester City (Phil Foden), PSG (Juan Bernat), Real Madrid (Vinicius Jr), Roma (Justin Kluivert) and Tottenham Hotspur (Serge Aurier).
Given that EA Sports is at the helm, it's likely to be a slick operation. As an added incentive, fans can score bonus FIFA Ultimate Team (FUT) points by linking a Twitch account to an EA account.
eMLS FIFA 20 Tournament
When: The straight knockout FIFA 20 competition kicks off on Sunday, April 19 and then plays every Sunday for five weeks.
Who: The eMLS tournament will see actual MLS footballers such as Nani (Orlando City) and Javier "Chicharito" Hernandez (LA Galaxy) paired with their esport counterparts as 16 teams vie for glory.
Where: Matches will be aired on FS1 and Fox Deportes starting at 7 p.m. ET starting Sunday, April 19.
Why: After each episode, MLS WORKS, the league's social responsibility platform will make a donation on behalf of the winning club to Feeding America, with MLS also supporting Food Banks Canada.
Why should I care: Lots of big names from MLS will partner with the clubs respective eMLS gamers making for some potentially exciting matchups. And because the real deal is on hold!
MLS stars who will take place in the tournament include D.C. United's Paul Arriola, New England Revolution's Diego Fagundez, Minnesota United's Tyler Miller, Sporting Kansas City's Wan Kuzain, New York Red Bulls Aaron Long and New York City FC's Sean Johnson.
The Football's Staying Home Cup
When: The first round gets underway at 5 p.m. BST on April 10 with a second round following the week after.
Who: The competition, launched by England captains Harry Kane and Steph Houghton, has been organised by the FA and will see various England internationals going head to head in the virtual FIFA 20 arena.
Where: Fans can follow matches via England's official Twitter account and YouTube channel.
Why: Funds raised will be donated to the National Emergencies Trust.
Why should I care?: There are plenty of big names involved from across the England men's, women's and under-21 sides, with the competition making up part of the FA's #FootballsStayingAtHome initiative.
The all-star cast of players includes Marcus Rashford, Jadon Sancho, Trent Alexander-Arnold, Lucy Bronze, Jordan Nobbs, James Maddison, Tammy Abraham, Callum Hudson-Odoi, Reiss Nelson, Eddie Nketiah and Ryan Sessegnon.
Virtual Milan Derby
When: Saturday, April 11, at 11.30 p.m. BST.
Who: AC Milan's Portuguese forward Rafael Leao will be facing Inter Milan striker Sebastiano Esposito in a PES 2020 version of the Milan Derby.
Why: The two fierce rivals have collaborated as part of Milan's initiative to unite all fans during the coronavirus outbreak, with all funds raised going to aid in the fight against Covid-19.
Milan hope to unite all fans during the coronavirus pandemic and to invite them to contribute to the ongoing fundraising campaign launched by the Club and Fondazione Milan in the fight against Covid-19. The campaign has so far raised over €600,000, with fans able to donate via the Go Fund Me page.
Where: Fans can watch the game via Milan's official app, the club's Facebook page, their YouTube channel and/or their in-house subscription TV channel.
Why should I care?: This will be the first time the famous Derby della Madonnina has been contested online and, while hardly ideal, it's nice to see the Milan clubs putting their differences aside for a good cause.
La Liga Challenge: Team MaRiiO versus Team Ibai
When: The initial tournament kicks off at 5 p.m. BST on Saturday, April 11, resuming at the same time on April 12.
Who: The challenge is co-created by Ibai Llanos, the man responsible for the popular La Liga FIFA competition won for Real Madrid by Marco Asensio earlier this month. He's joined by fellow Spanish YouTube personality DJ MaRiiO.
Why: The aforementioned pair have collaborated with La Liga themselves to challenge a host of actual La Liga footballers, eLaLiga gamers and other Spanish celebrity figures to join them in a massive FIFA 20 tournament.
The aim is to provide a little entertainment to football fans who are missing out on the real thing while stuck at home.
Where: The matches will be shown live on LaLigaTV.
Why should I care?: Ibai Llanos has excellent credentials when it comes to this kind of thing, what with him being the man behind the original La Liga lockdown competition.
If you're into your famous Spanish faces, this should be the efootball fix for you.
UEFA eEURO 2020
When: Playoffs on April 20 and 27, final tournament on May 3-4
Who: Ten nations have already qualified (Bosnia & Herzegovina, France, Germany, Greece, Israel, Italy, Luxembourg, Netherlands, Romania, and Serbia) while the final six will be decided via playoffs.
Why: Champions will win tickets to the final of the actual UEFA European Championships next year as well as a cash prize.
Where: Matches will be streamed live on UEFA's official YouTube channel.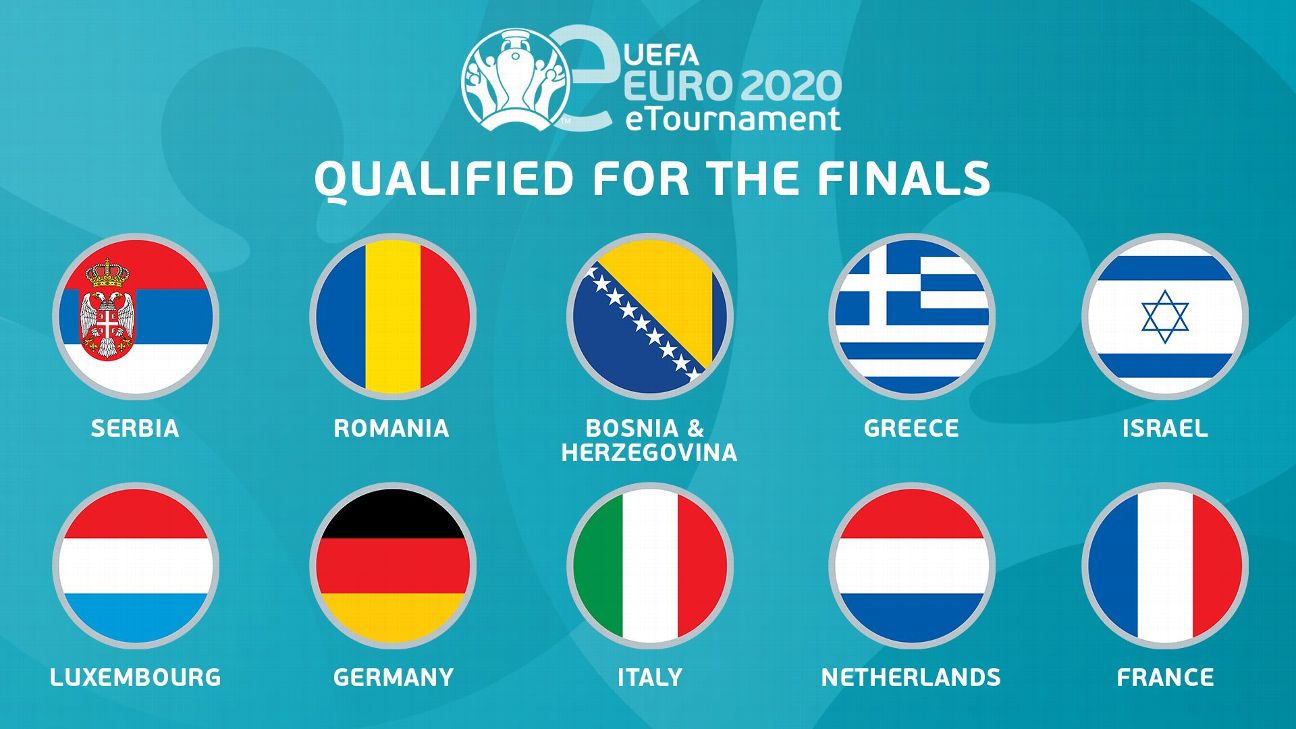 Why should I care?: UEFA's grand PES 2020 tournament boasts the distinction of being the largest "efootball" international competition ever staged, with 55 nations originally entering into the preliminary rounds.
As things stand, some 10,000 gamers have taken part, while streamed content from the tournament (including the draws) has been viewed by over 2 million people.
Also, with the real thing postponed until 2021, this is as close to a European Championship you'll be getting for a while.
All At Home Gaming Cup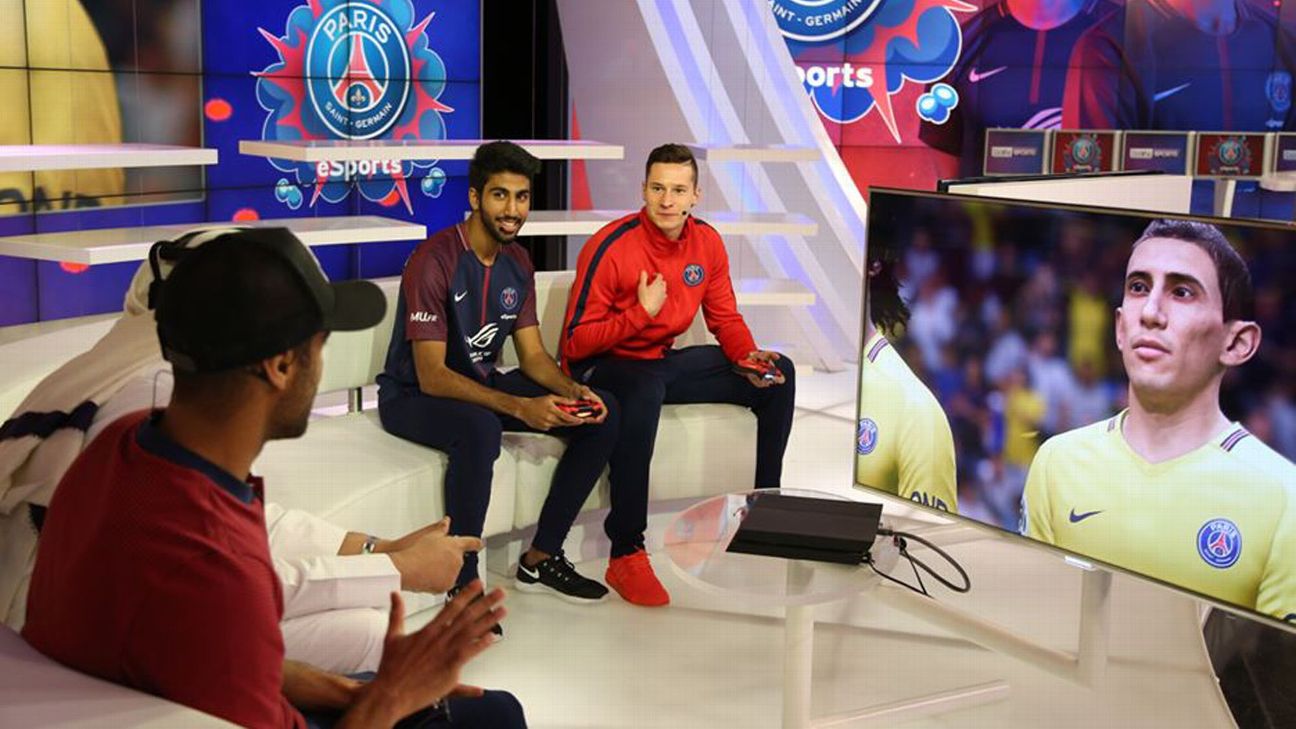 When: The first tournament on Sunday, April 5, then every Saturday until April 25.
Who: Organised by Paris Saint-Germain, weekly winners will advance to face the likes of Layvin Kurzawa, Julian Draxler, Juan Bernat and PSG's own esport FIFA pro, DaXe.
Why: As well as the chance to play against a PSG star, there are a variety of prizes up for grabs including match tickets, meet-and-greets, luxury hotel stays in Paris, and various other signed club merchandise.
Where: The pro finals will all be broadcast on PSG's social channels and live on beIN SPORTS.
Why should I care?: The main aim of the tournament is to help reinforce medical and government advice for everybody to stay at home and look after each other during the lockdown.
The All At Home Cup will also feature a "goal of the tournament" poll that will be open to public voting, allowing everybody to play their part.
Bundesliga Home Challenge
When: The second round of the tournament takes place on April 4-5.
Who: 29 teams from the top two divisions of German football, as well as a referee's team.
In most cases, each club will be represented by one of their senior pros as well as another staff member.
Why: Designed to enforce the message to stay at home and isolate during the coronavirus outbreak, the Bundesliga hope to provide some entertainment to help keep cabin fever at arm's length.
Where: All games are streamed on Bundesliga.com and via the Bundesliga's official YouTube account.
Why should I care?: Because who wouldn't want to see professional players try to get their revenge on a team consisting entirely of referees?
eMLS Friendly Series
When: In progress
Who: The eMLS are hosting and organising a series of FIFA 20 friendlies between players from actual rival MLS clubs.
Why: Just for fun.
Where: Games are being streamed live on Twitch. Check the eMLS Twitter account for details.
Why should I care?: Because they may be calling them friendlies but that doesn't mean the players are taking these encounters lightly.
Take a recent clash saw Alan Pulido (of Sporting KC) and Oswaldo Alanis (San Jose Earthquakes) for instance. Pulido celebrated scoring a goal against his fellow Mexico international so loudly that the latter could probably hear it from his living room in San Jose.
– FIFA's bold plan to handle a looming transfer crisis
– A letter from the great quarantine: Missing football, pasta and friendship
eLiga MX
When: Begins on April 10.
Who: Each of the 18 clubs in Liga MX will be represented by a team of three players from their 2020 Clausura squads. Club America's Giovani dos Santos and Tigres' Nahuel Guzman will be taking control of their teams.
Why: Liga MX has been shut down since March 15 due to the coronavirus outbreak, so the league will be restarting in digital form to offer fans pining for football an alternative.
Where: Games will be broadcast live on TV in Mexico and the United States and highlights no doubt will be posted online.
Why should I care?: With the real thing on ice, the e-league competition will mirror the 2020 Clausura season — i.e, a full regular season and then a playoff to decide the champion. And the banter as current players square off gives it a little extra edge — Tigres legend Guzman is sure to provide some fun with his inimitable style and sharp tongue.
Restez Chez Vous Trophy
When: An initial tournament will take place April 2-9 with the winner facing the winner of a second tournament (April 10-12) to be crowned overall champion.
Who: The FIFA 20 charity tournament has been organised by French tennis professional Nicolas Mahut, with Paris Saint-Germain's Thomas Meunier and Valencia's Kevin Gameiro among a whole host of sporting stars set to take part.
Why: Funds raised by the competition will be donated to charities supporting hospitals and medical workers in Paris.
Where: Mahut has set up his own page, from where you can access the games.
Why should I care?: Amateur gamers will be rubbing shoulders with professional athletes in the middle of the esports arena with special prizes (signed tennis rackets, video games, etc) up for grabs.
Indeed, L'Equipe reports that around more than 1,000 participants will be entering, so it may well end up being a truly epic affair.
The STAY INtertoto Cup
When: Contestants are still being announced. Games will commence when the roster is full.
Who: Lots of players from Premier League, Championship and Football League clubs as well as some from outside the U.K. banding together to play a round-robin FIFA 20 tournament of their own.
Why: While serving to stave off boredom for the quarantined pros involved, the STAY INtertoto Cup will be raising money for NHS Staff.
Why should I care?: Actual players from from England's professional leagues and beyond, representing their clubs — what's not to love?
The name of the competition is also a rather excellent pun, and suitably nostalgic for football fans of a certain vintage who remember the preseason tournament for European clubs who had not qualified for UEFA competitions. The Intertoto Cup, always something of an oddity, was eventually scrapped in 2008.
Ultimate Quaran-Team
When: First installment finished on April 6.
Who: Initiated by English third-tier club Leyton Orient as a means of keeping boredom at bay during the lockdown, this international FIFA 20 tournament is the original trailblazer.
Why: As well as staving off tedium in the absence of football, the Quaran-Team competition has already raised well over half of its £100,000 fundraising goal.
The money raised will be split between the EFL (to help keep struggling clubs afloat) and two worthwhile charities, MIND and the COVID-19 Solidarity Response Fund, run by the World Health Organisation.
Where: Most matches are streamed live on YouTube.
Why should I care?: If the pun in the name isn't enough to get you hooked then the roller-coaster drama will definitely lure you in.
We've had upsets galore, epic clashes, dramatic late winners, incredible 10-goal whitewashes and Blackburn Rovers midfielder Bradley Dack getting himself sent off while playing as Bradley Dack.
Out of the 128 clubs that entered, Premier League side Wolves were the last team standing, beating Dutch outfit Groningen 2-1 in the final.
Combat Corona
When: Began on April 5
Who: Some big-name contenders have already been announced, with Gareth Bale and Paulo Dybala in the mix for the FIFA 2020 tournament.
They will be joined by fellow pros Ruben Loftus-Cheek, Mason Mount, Jordan Pickford, Daniel James, Billy Gilmour, Dominic Calvert-Lewin, Luke Shaw and Kieran Tierney.
Why: Funds raised will be donated to UNICEF to aid in the fight against the coronavirus.
Where: The first games get underway live on Twitch at 4 p.m. GMT.
Why should I care?: A host of bona fide professional footballers going head to head in the virtual sphere is bound to pull the punters in — and the more donations made, the more money will be raised for a worthy cause.
It's also a great chance to see which of the real footballers are good at FIFA and which are utterly hopeless.
Friday Night FIFA
When: First game was on April 3
Who: Liverpool right-back Trent Alexander-Arnold challenged Manchester City's professional esports player Ryan Pessoa to a duel on FIFA 20.
Why: Straight-up bragging rights and general entertainment.
Where: Live on Pessoa's Twitch channel, while fans were encouraged to submit questions for both players before kick-off via Pessoa's Twitter and Instagram accounts.
Why should I care?: Digitally representing the two top teams in the Premier League, Liverpool's Alexander-Arnold and City's Pessoa have struck up a friendship in real life after both signed up as official brand ambassadors of an energy drink (Red Bull).
The pair faced off in a best-of-three battle, and Trent got off to an encouraging start by holding his elite opponent to a 2-2 draw in the opener. But Pessoa's class eventually won through, as he won the next to matches by an aggregate score of 6-1.
However, this may not be the end of the Pro/Am clashes, with Trent then suggesting Exeter rugby player Jack Nowell avenge his defeat.
Source: Read Full Article