For administrators whose leagues are looking to get back up and running, all eyes have been on the Bundesliga. But for sports scientists aligned to some of the world's biggest football clubs, the last month has been spent taking notes.
German sides "returned" to training on 6 April after leagues were put on hold from 13 March. On the training grounds of top-flight leaders Bayern Munich and bottom-of-the-table Paderborn, players reacquainted themselves with the ball in small groups, going through warm-ups and regular technical drills albeit without any physical contact. And while the major focus was on creating and maintaining safe distances in line with Covid-19 protocol, just as much energy has been put into bringing players back to competitive fitness as quickly as possible.
Coronavirus has presented every sector of life with unique challenges to face, and that is no different for sports science. Yet while the circles they inhabit are deeply competitive, scientists and strength-and-conditioning coaches have been working together across the board, sharing information and, in some cases, shown willing to part with information that will invariably cede what might have been a competitive edge. Small circles and a peer review mindset within the community have gone a long way towards open dialogue between Germany and English counterparts, long before the concocting of the Premier League's Project Restart.
Download the new Independent Premium app
Sharing the full story, not just the headlines
During a webinar at the end of April, Tony Strudwick, head of performance at Sheffield Wednesday and the Welsh FA, outlined key factors professional football clubs were considering when it came to planning "consolidated preseason" regimes. Among them were considerations such as where a player lives.
"We have some players who live in a flat who don't have access to parks," said Strudwick of those at Sheffield Wednesday. "Some have access to fields, some have access to treadmills. The disparity of where the athletes are at is very great."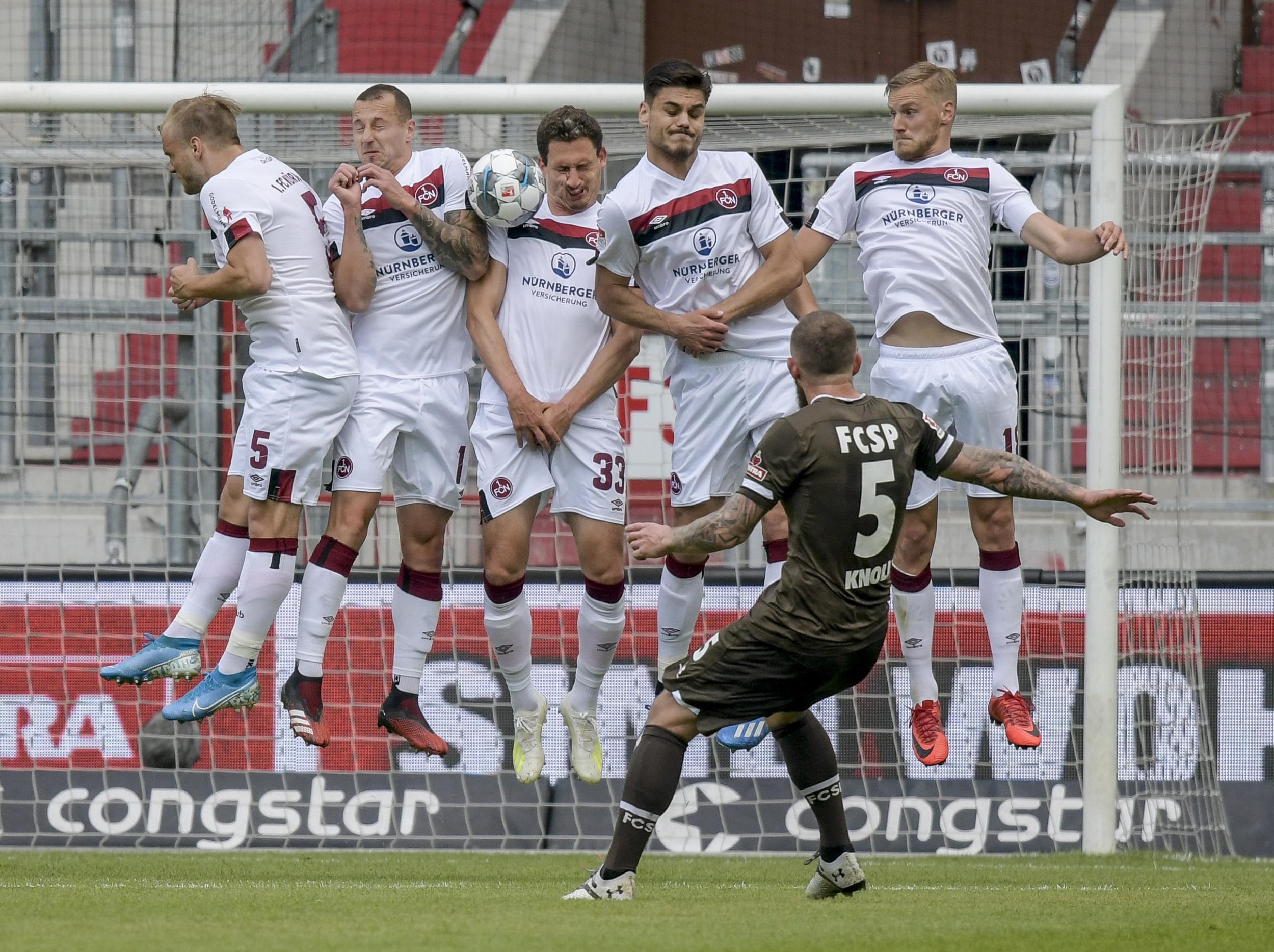 That is not unique to a side 15th in the Championship. Many Premier League players reside in flats, and no matter how luxurious, a lack of immediately accessible space impinges on how much regular outdoor work can be done.
As such, clubs have used various data collection means, using basic running apps like Strava or more exhaustive data through Catapult – used by half of the Premier League – to clock distances run, how bodies have been reacting to intense workouts and maximum velocities. All while fitness coaches and nutritionists have touched base with their players on a daily basis. Even those with knowledge on their side have been forced to adjust regularly. Strudwick estimates his plans have changed around 12 times since English football pulled down the shutter two months ago.
One of the biggest lessons learned in Germany has been the need to make the most of the two weeks prior to returning to the training ground. In regular pre-season, "loading" players with aerobic and anaerobic work through long runs and interval training to build physiological capacity dominates the schedule when players return from their summers.
But the need to reacquaint themselves with formations, live and dead-ball set-plays and transitional work means players will spend more time with a ball at their feet than usual so soon after such a break. With the onus on getting matches played as soon as possible, and with contact time with coaches on the training ground limited due to various restrictions, football will take precedence over fitness.
Though there will still be tests to measure fitness levels, they will become embedded among technical and tactical drills. A lack of friendlies, too, is another stumbling block.
For these reasons, there's an acceptance that the first rounds upon league resumptions will be relatively downbeat barring the unbridled enthusiasm of football fans across the world.
"Without that ability to ease into things, the intensity of the matches will be lower," Kieran Howle, a senior sports scientist at Catapult, tells The Independent. "As you see at the starts of seasons, things pick up and get more frenetic once they have worked their way into the season and built into that match fitness. It is going to be interesting seeing how players get their players match fit that early.
"Generally I'd say it takes five or six weeks into a season before we really see players at full match fitness because you can't replicate match intensity within training. Only to an extent, especially with the jeopardy of points on the line, quality of opposition and, usually, crowds driving player activity. Trying to build that match fitness into players in a reduced time frame becomes even harder."
However slower games of lower quality are the least of Howle's concerns. For him and countless others, there is trepidation over how players will cope with being thrown into turbulent schedules with less-than-optimal preparation.
During research on fixture congestion and its effect on recovery and injury in professional football, Howle found that during what he terms "acute congested periods" – multiple matches with fewer than four days recovery between them – players were more than twice as likely to get injured, with an increased likelihood of sustaining moderate and severe injuries such as muscle tears.
As Howle points out himself, it makes sense: playing more games increases the likelihood of getting hurt. But the levels of fatigue is one to pay particular attention to given what is due to be asked of players.
"Traditionally when you play one game in a week there's a reduced recovery for 48 hours after. By 72 hours, players have generally returned to pre-match levels of recovery.
"But when we see players competing in two games a week, that time extends. In many cases we found that players were taking as long as four days to recover effectively."
Coupled with inadequate preparation, Howle believes this could have a multiplying effect on the occurrence and scale of injury. "It's almost the perfect storm," he says. "And teams are aware of that".
"If you have short truncated pre-season leading into congested periods effectively straight away, and you're not doing all of the right things then injuries are going to come."
It is why as well as getting their players to make the most of their time at home, teams are looking at how they can manage their squads and focus primarily on recovery between matches. That again will require incorporation of data: looking at which drills will be most effective at ticking over without sapping energy reserves. Beasting players between rounds, as has usually been the way, is off the table.
Indeed a break in play has meant the need to break away from conventional wisdom. From these unprecedented times will come new learnings and methods.
Football returning in this manner will provide unique data on how players deal with congested schedules from a standing start and the impact on performance when playing behind closed doors. A series of hypotheticals coming to life that could challenge how we think about the game.
Football as we know it is changing, for the time being at least. But what we know of football might be changing for good.
Source: Read Full Article