Manchester City saw off Real Madrid in the Champions League last 16 second leg, winning 2-1 on the night to secure a 4-2 aggregate win.
A pair of Raphael Varane errors cost his team, with Raheem Sterling and Gabriel Jesus profiting from them in either half.
Karim Benzema equalised in between, but City always looked the more dominant side and deserved the victory across the two legs, months apart as they were.
Download the new Independent Premium app
Sharing the full story, not just the headlines
They now head to Portugal for the quarters, and beyond potentially, as Guardiola chases some overdue success in Europe.
Here are five things we learned from the second leg at the Etihad.
Errors in the elite
Perhaps it's to be expected, given the fragmented nature of the season as a whole and especially with the gap between the end of domestic campaigns and Europe restarting now.
But even so, it's rather shocking to see such high-calibre players making unforced errors in the fashion Varane did for both City's goal.
He wasn't the only one on the night to make poor decisions and he certainly won't be the only one across the rest of this year's Champions League—and maybe it should be anticipated.
For fans, it'll produce more game-changing moments, more chances of scoring goals. For managers, with so much at stake, perhaps a little more pragmatism might be called for in their pre-match chats.
Sterling's goal rate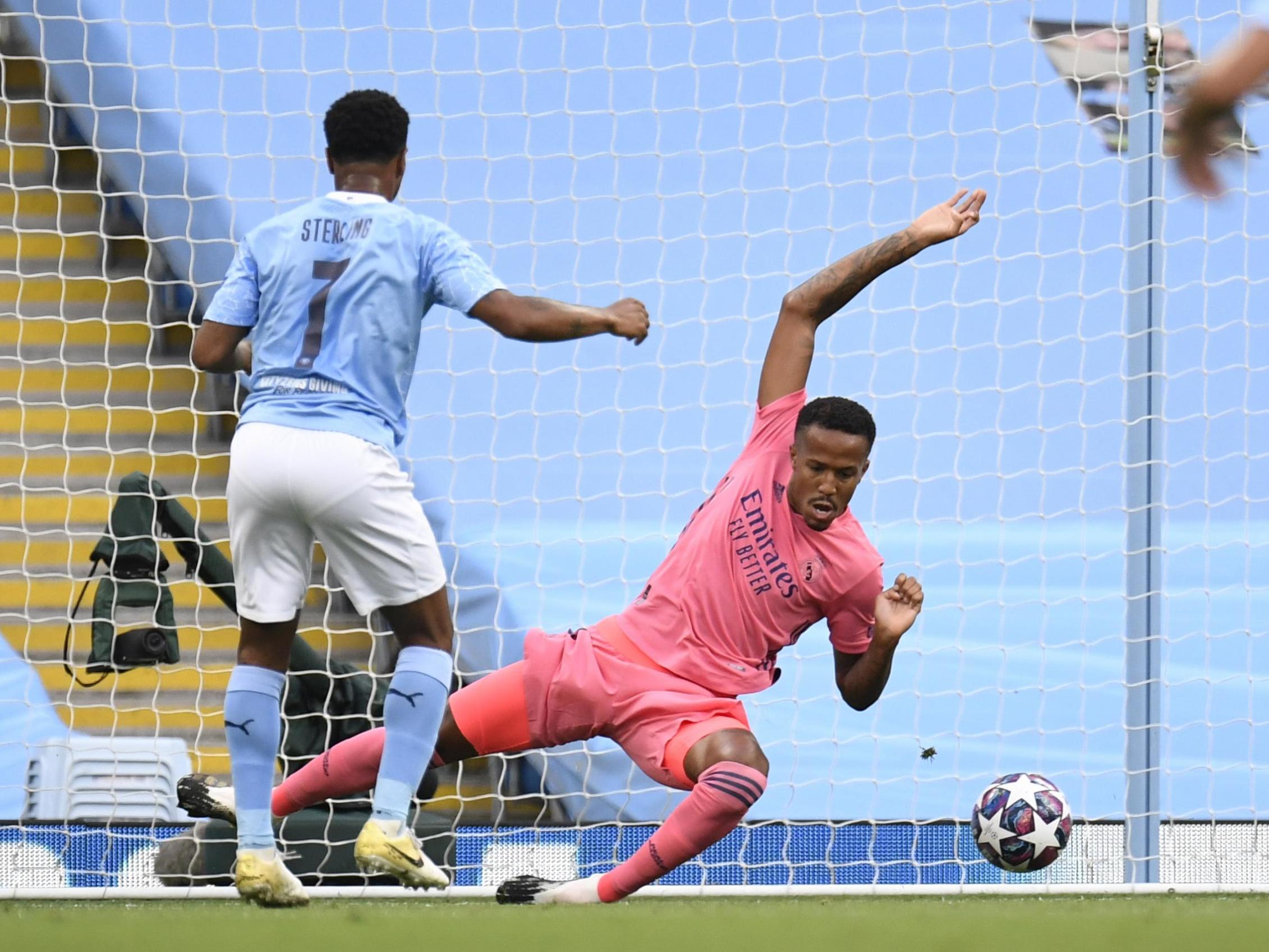 It still seems to go under the radar somewhat, but Sterling is now beyond a 30-goal season.
His early strike here made it 31 for the season, a tremendous total across all competitions and more so considering he's not a starting centre-forward.
The versatility and range of his strikes, the relative consistency of them and his capacity to net in big matches all make him a crucial part of Pep Guardiola's attack.
He misses a few chances, for sure – one shortly into the second half was a good example – but the fact he helps open defences so often is what gets Sterling those chances, as well as creating them for others.
Restrained full-backs
Usually, both these teams play with their full-backs high, wide and looking to stretch teams.
The four of them would usually be the initial outlet, the option to play off into the final third before the creative attackers get on the ball and open up the gaps between opposition defences.
Here, it was either tactical respect or an example of how teams aren't in full flow: save for isolated incidents like Kyle Walker's first-half dribble past four defenders, the four full-backs on the pitch didn't drive forward anywhere near as often.
Ferland Mendy and Dani Carvajal barely ventured forward for most of the match, while Joao Cancelo was mostly available as a support act, rather than a penetrative runner himself.
Missing faces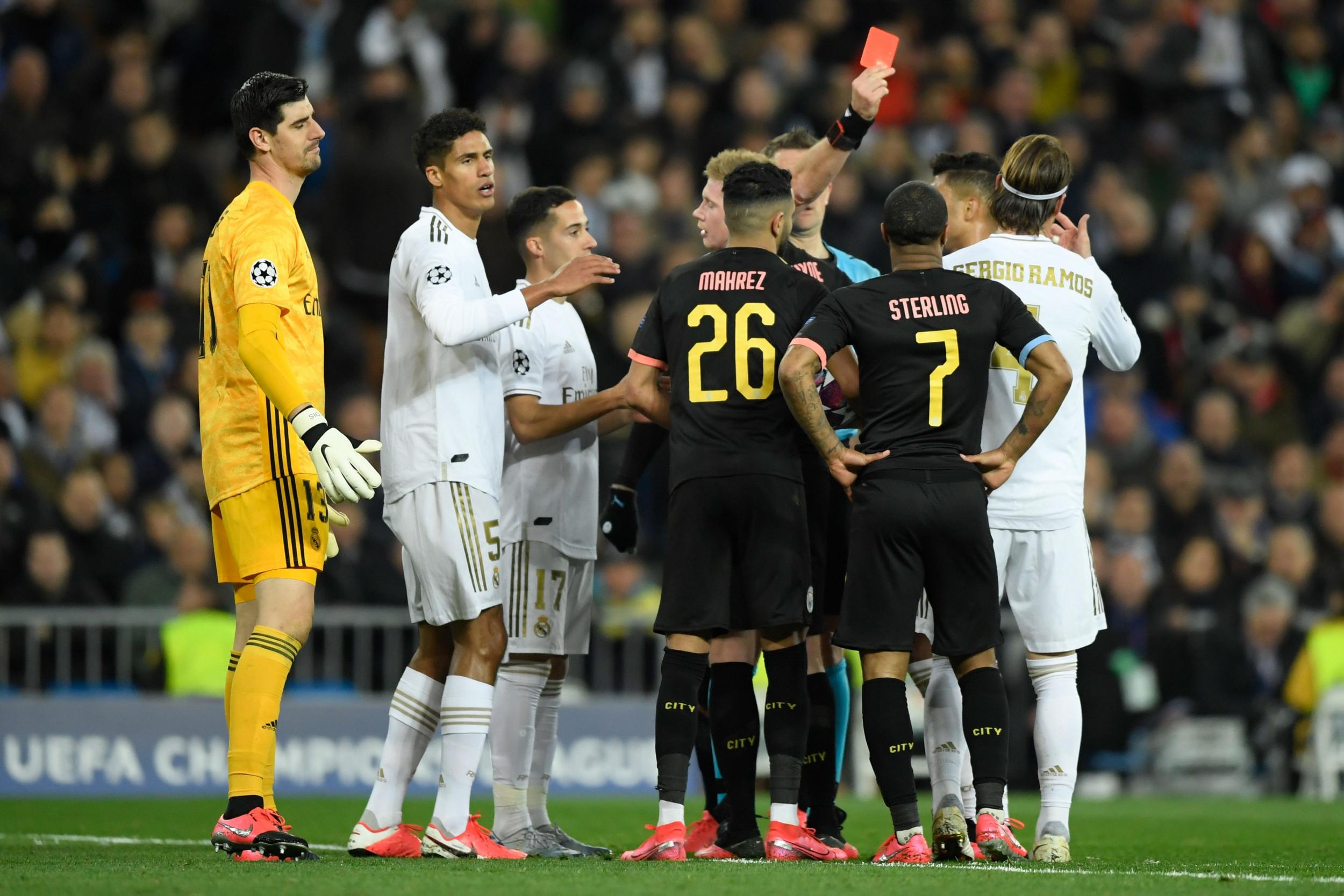 From Real Madrid's perspective, question marks and if-only might be the order of the night, due to who wasn't on the pitch.
Sergio Ramos was sat in the stands, suspended after the first leg, and while he has a hugely erratic streak of his own, he unquestionably raises the performance levels and the desire of those around him.
Both were missing on the night, particularly from his defensive partner Varane.
In attack, it wasn't just the at-home Gareth Bale who could have offered more, but also Vinicius Junior – often a starter in LaLiga post-lockdown, but not even called off the bench here.
Perhaps an injury hampered his involvement, but if not, the use of Lucas Vazquez ahead of him would certainly raise an eyebrow—as must the ongoing lack of impact from last summer's striker signing, Luka Jovic, who was given just a few minutes here in a must-win game.
Lyon lie in wait
So City go through to the 'World Cup' of Champions Leagues, with the last three rounds to be played in Lisbon, Portugal.
The next challenge ahead is Lyon, after they saw off Juventus on away goals, and with the likes of Bayern Munich or Barcelona still ahead, there's no easy route to glory.
But City can't really claim to have been overexerted across the past couple of months, and they already lost out in the FA Cup semi-final—arguably the only match which had much meaning since the restart.
There's no room for error now: win and in, lose and go home. The biggest prize in European football lies ahead, for whichever team can perhaps commit the fewest errors and find consistency across three more matches.
Source: Read Full Article