The big kick-off for Euro 2020 is now just two days away with England and Gareth Southgate finalising their preparation for their first group stage game.
While Scotland and Wales, too, look to thrive on the big stage following the tournament's opener between Italy and Turkey at the Stadio Olimpico.
It has been a week of disruption for the Three Lions with Ben White stepping in late for the injured Trent Alexander-Arnold with the Brighton defender providing cover for Harry Maguire, who is contending with an injury just days out from the start of the tournament.
Croatia are up first, but Group D opponents Scotland will face Czech Republic off in the other first round of games on Monday.
Wales will be the first of the home nations to play in Euro 2020 when they kick off against Switzerland on Saturday.
There are now a series of late injuries for a number of contenders to cope with, including the Netherlands, who have lost Donny van de Beek.
Karim Benzema suffered a scare for the favourites and world champions France, limping off against Bulgaria. While there are Covid-19 cases, including Spain's Sergio Busquets.
Van de Beek injury a 'huge blow' for Netherlands
Netherlands and PSV Eindhoven right-back Denzel Dumfries has described the injury to Donny Van de Beek as a "huge blow" with the Manchester United midfielder's nightmare season capped after being removed for the squad for the tournament.
Dumfries said: "This is a huge blow. As a group we are working towards the tournament and Donny is part of our group. We all really feel for him."
While the Dutch Football Association said in a statement: "Donny van de Beek is not available to play the European Championship with the Netherlands. The Manchester United midfielder is struggling with an injury. As a result, the 19-time international, who last played for the Dutch squad in March, is not fit enough to join for the tournament."
Llorente follows Busquets as Spain's Covid concern grows
Marcos Llorente has tested positive for Covid-19, following Sergio Busquets' case, which led to Spain sending their Spain Under-21 side to play Lithuania in a pre-Euro 2020 warm-up friendly.
RFEF president Luis Rubiales has suggested there will be more positive tests too:
"We have one positive case, there could well be more positive cases, it's probable there will be. But these players here deserve respect, as does the badge on their shirt."
To combat the issue, Spain has called up Kepa Arrizabalaga, Raul Albiol, Carlos Soler, Brais Mendez, Pablo Fornals and Rodrigo Moreno to form a parallel training bubble.
France suffer Benzema injury scare
Karim Benzema picked up a knock with France braced for the worst after the Real Madrid striker limped off against Bulgaria.
Didier Deschamps confirmed it was just a "knock on the knee".
'It's a knock on the knee, which also affects the muscle,' Deschamps told TF1. 'He felt he was getting stiff so he asked to be subbed. The medical staff are taking care of him.'
Foden admits to 'massive mistake' during Iceland trip but grateful for Euro 2020 second chance
Phil Foden has admitted he made a "massive mistake" by breaching the England camp's Covid-19 protocols in Iceland last year but thanked Gareth Southgate for the chance to rebuild his international career.
The Manchester City youngster's first call-up to the senior squad last September ended in him and Mason Greenwood being sent home early as punishment for meeting up with two women at the team hotel in Reykjavik.
Both players were overlooked for the subsequent October internationals but Foden returned the following month and has emerged as a key member of Southgate's set-up in the time since, scoring twice in his six international appearances to date.
Phil Foden admits to 'massive' England mistake during Iceland trip
Foden was sent home after meeting two women at team's Reykjavik hotel
Henderson insists he is fit to start England's opener against Croatia
Jordan Henderson has declared himself fit to start in England's opening Euro 2020 game against Croatia. That much is clear. The midfielder even intimidated that the extent of his injury has been overplayed, despite not playing club football since February.
What is a little less clear is how exactly Henderson feels about Roy Keane's much-discussed comments on the Liverpool captain. The 30-year-old pays his former manager due respect as the man who gave him his Sunderland debut and says he found the comments funny, but he also keeps coming back to them and making reference to some of Keane's lines. The ITV pundit wondered why Henderson was called up if he is not fit, making jibes about card tricks in the camp.
"To be fair to Roy, he can say what he wants about me," the midfielder explains. "He gave us me debut and I wouldn't be here without that. He can say whatever he wants about me. I found it quite funny, actually. So, yeah, listen, we know a little bit more detail, so does the manager, which Roy may not."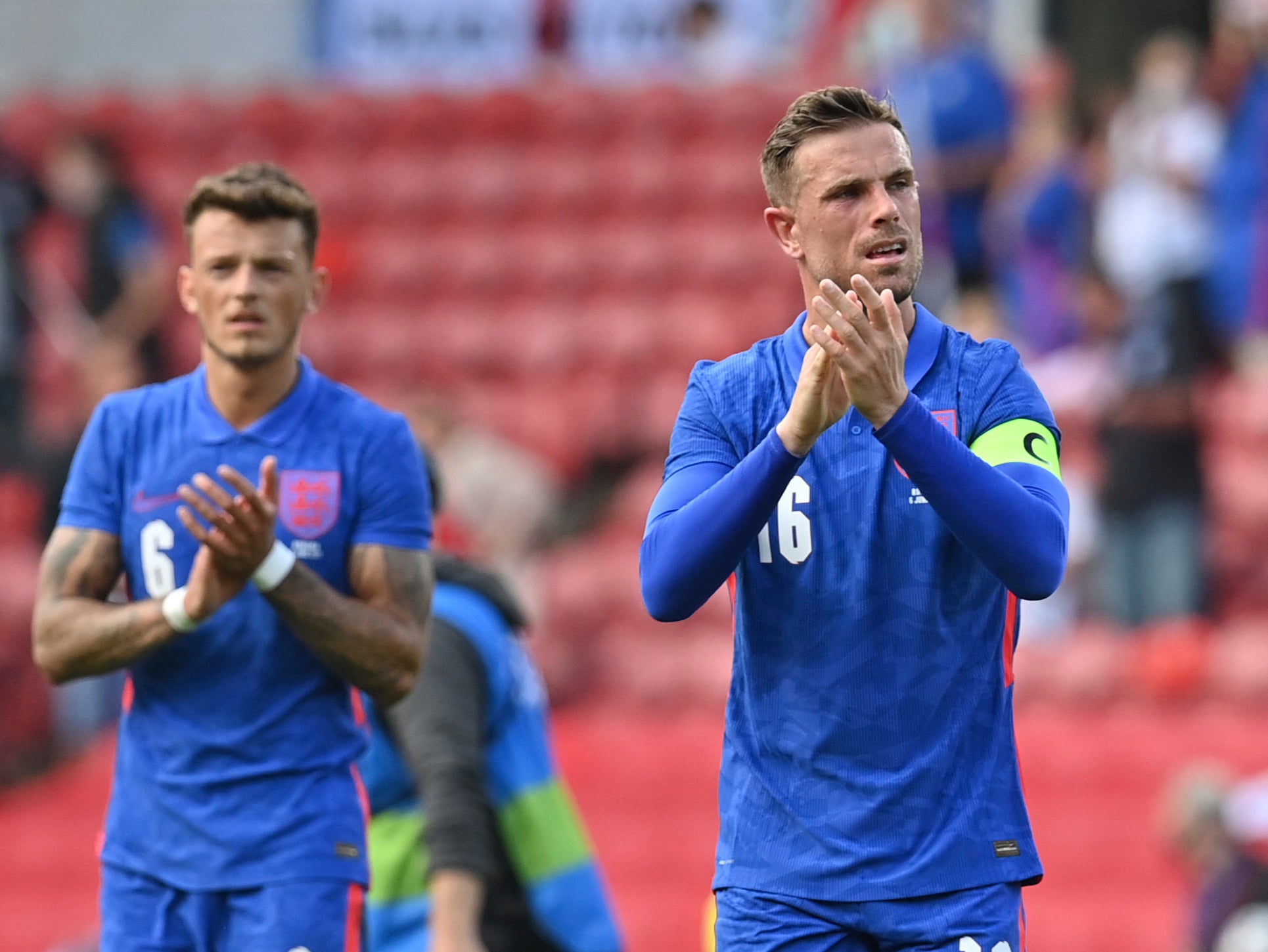 Jordan Henderson insists he is fit to start against Croatia
Midfielder made his first appearance since February in England's win against Romania
Source: Read Full Article