As is the case with a lot in football right now, many are looking to Germany, to see what's next. The Bundesliga yet again offers a test case for the game. Except, this goes way beyond football, and the key question is whether it goes beyond politics.
The German federation announced on Monday it was reviewing the cases of Jadon Sancho, Achraf Hakimi and Weston McKennie over their protests against the death of George Floyd by a Minneapolis policeman.
"Part of these examinations is to ascertain whether during matches and on the pitch are the right place for these actions," DFB vice-president Rainer Koch said. "As is the case internationally, the game should remain free of political statements or messages of any kind."
Download the new Independent Premium app
Sharing the full story, not just the headlines
When you look internationally, though, the global governing body is effectively stating the opposite.
"Fifa fully understands the depth of sentiment and concerns expressed by many footballers in light of the tragic circumstances of the George Floyd case," a statement read. "The application of the laws of the game… is left for the competition's organisers, which should use common sense and have in consideration the context surrounding the events."
This, for a body so often criticised for getting it wrong, was an example of Fifa striking exactly the right tone.
They didn't get it exactly perfect, mind. The Fifa Twitter account initially put up a post celebrating Sancho's assist stats, featuring a photo of the forward displaying his "Justice for George Floyd" message. That was later deleted, and the photo replaced, which didn't seem like common sense.
Sancho's protest is likely to be a common sentiment. Chelsea, Everton, Liverpool, Manchester United, Newcastle United, Leicester City and Tottenham Hotspur all put up social media posts in support – Liverpool's and Newcastle's featuring their squads taking the knee in training – to go with countless players from Marcus Rashford to Jordan Henderson.
That makes the Bundesliga example all the more relevant, and instructive, since there are likely to many more following Sancho, Hakimi and McKennie on the pitch.
The German federation should heed Fifa's advice. This is not the time to get bureaucratically procedural. It is a time for common sense, and a human appreciation for common good.
If a federation ends up punishing players for such protests, we are likely to hear the usual defences that there has to be a blanket attitude to political expression, because the football authorities can't police every individual action or risk being accused of some kind of bias or favouritism.
There is actually a small amount of logic to the argument, but it only extends so far. The game inherently makes these decisions all the time.
As should really be a pat cliche in its own right now, football and politics cannot be separated. They are intertwined, with the latter inherent to the former. The very organisation of a match can be a political act. You only have to look at Athletic Bilbao's official player policy, related to Basque nationalism.
Any basic first XI is fundamentally an organisation of people. To go much further, you only have to look at the segregation of teams in Apartheid South Africa. Fifa were one of many sporting bodies to ban the country. The game has thereby always made these distinctions. They've also done so very concretely relatively recently.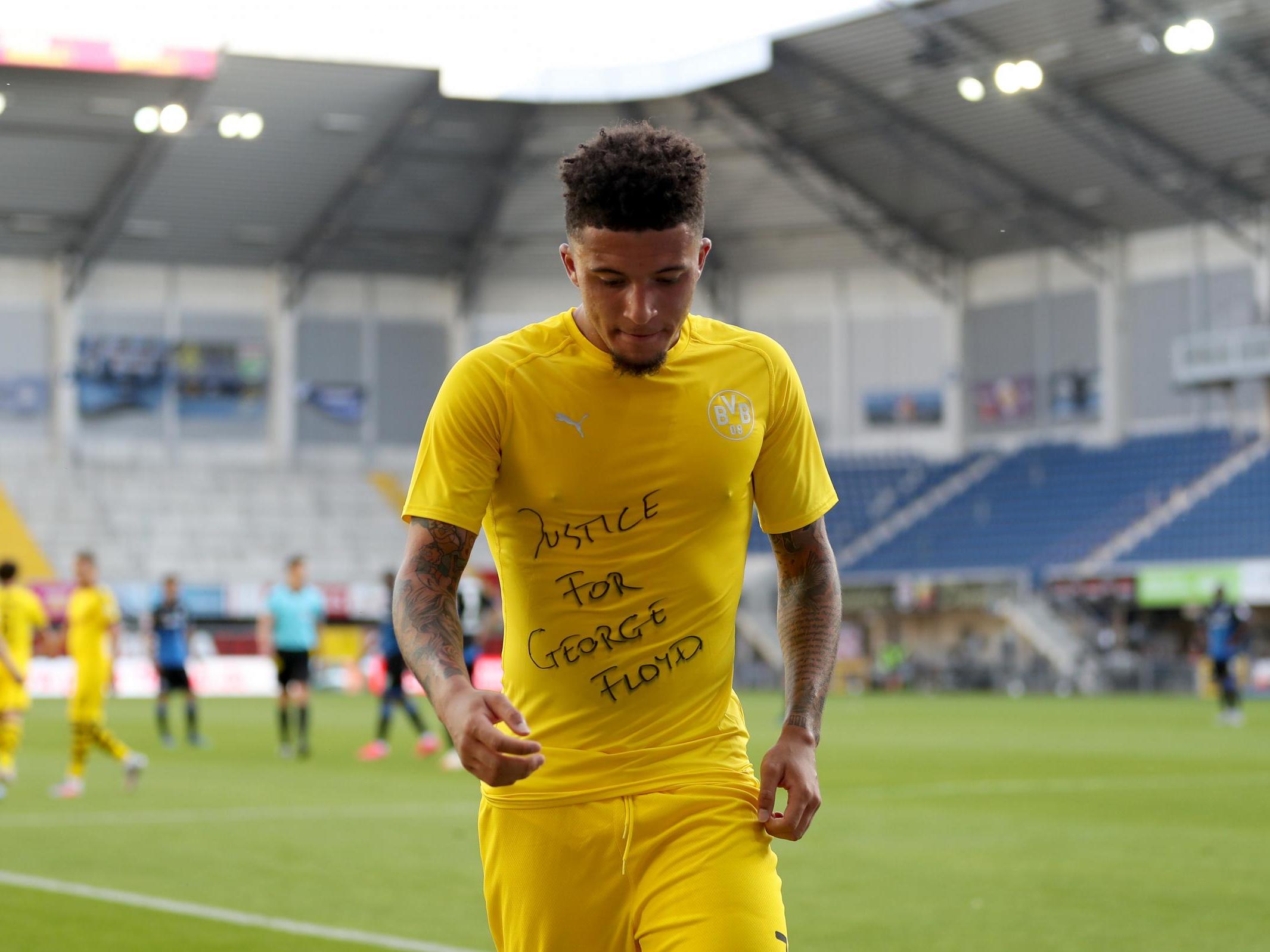 Law Four of the game was actually rewritten just over two years ago to cover precisely this, and was repeatedly referenced when Pep Guardiola wore a yellow ribbon for Catalan independence. The comments of then FA chairman Martin Glenn are also instructive.
"To be very clear, his yellow ribbon is a political symbol, it's a symbol of Catalan independence," he said at the time. "There are many more Spaniards, non-Catalans who are upset by it… things that are going to be highly divisive, and that could be strong religious symbols – it could be the Star of David, it could the hammer and sickle, it could be a swastika, anything like Robert Mugabe on your shirt – these are the things we don't want.
"We have re-written Law Four of the game so that things like a poppy are OK."
Many, like James McClean and Nemanja Matic, think that the poppy is not OK. But the wider point is that if that is where the line is drawn, protests about George Floyd are obviously a long way inside the right side. The FA's own social media post was encouraging in this regard.
Kick It Out chairman Sanjay Bhandari was correct in telling the Guardian "this is almost above politics" and is "about right and wrong". "This is someone who was killed on the streets by the police. This is about seeking justice for him and others like him. I don't see that as being political. That's human."
It is fundamentally political, yes, but – like so many other elements of football – of a wider dimension that should put it beyond reproach and punishment. The game's authorities now just need to do what's right.
Source: Read Full Article