The AFL are planning to start the 2021 season at the MCG in the final week of March as per normal although they concede that the continuing uncertainty around COVID-19 makes a prediction on crowds impossible.
With the season to finish on October 24 with a grand final at the Gabba, and no teams allowed to return for pre-season training before December, such a return date appears optimistic. However the AFL believes it will be better prepared for conducting the competition in a COVID-normal environment next year than it was when the pandemic's impact became real in mid-March.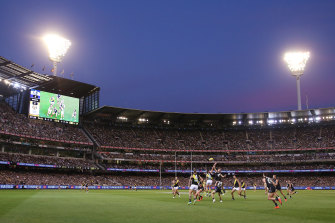 Richmond v Carlton opened the 2019 season at the 'G.Credit:Getty Images
He said it was difficult to predict how many people will be allowed at games next season.
The MCG remains hopeful of hosting the Boxing Day Test and Big Bash League games ahead of the AFL season, and continue to work with the Victorian government on safe ways for crowds to attend matches, with planning based on an increase to 50 per cent capacity at some stage in 2021.
Only about a dozen AFL matches per season exceed the 50 per cent capacity at the MCG although they had an average crowd above 50,000 per game in 2019.
Clubs are also anxious about the financial implications as the pandemic continues into 2021.
They would normally be informed of their fixture in the last week of October, enabling them to sell memberships and corporate packages. But there remains such uncertainty around whether crowds will be able to attend matches that developing saleable packages is difficult.
The AFL has made significant cuts at head office and football department caps have been reduced to $6.2 million per club per season as McLachlan revealed that the AFL spent $60 million in Queensland after relocating the majority of clubs to the Sunshine State in July.
Most of the expenditure relates to accommodation, food and transport for players and officials.
Most Viewed in Sport
Source: Read Full Article