Kirk Goldsberry (@kirkgoldsberry) is a professor and an NBA analyst for ESPN.
After enduring a scary loss in Game 1, the Los Angeles Lakers woke up, snapped back into shape and rattled off three straight wins in their first-round series against the Portland Trail Blazers. On Wednesday, they look to close it out and continue their march through the Western Conference.
These aren't your typical playoff Lakers. After watching Magic Johnson, Shaquille O'Neal and Kobe Bryant overpower helpless defenses with incredible offensive prowess, it's strange to watch this season's team lean on defense to win games.
Head coach Frank Vogel and his staff deserve some shine for taking last season's middling defense and reshaping it into a group with the third-best defensive rating in the NBA, along with the best defensive indicators in the loaded West. While those numbers are encouraging, Lakers haters can still point to a few potentially serious flaws on the other end of the court.
This offense shouldn't be scaring anyone right now. Even though L.A. has posted a respectable 113.2 offensive rating in the playoffs, it's doing so against a Blazers squad whose seven most-used three-man lineup combos in the seeding games all gave up at least 120 points per 100 possessions. This is one of the worst defenses in the league, making it difficult to claim these Lakers have really figured out how to regularly score in the postseason.
Let me give you three quick reasons why the Lakers' offensive performance could cost them a title, even if they easily get by a Blazers squad that's now without Damian Lillard.
Since the restart, the Lakers' offense ranks 19th of 22 bubble teams in scoring efficiency, yielding a below average 108 points per 100. That's worse than the Grizzlies and Pelicans, who have already left the bubble in defeat.

The Lakers' have ranked 20th out of 22 bubble teams in pick-and-roll efficiency since the restart. Only the Pacers and Wizards have been worse in that category.

They not only rank last in 3-point percentage (31.7%) since the restart, but they also have been one of the worst jump-shooting teams all season long — ranking 27th in the league in effective field goal percentage (eFG) on jumpers during the regular season and last in that category since the restart.
That last one is particularly troubling. It's hard to fathom how a championship run is feasible when all but two players on the team (Kyle Kuzma and Markieff Morris) are posting eFGs worse than 50% on their jumpers, per Second Spectrum tracking.
Looking back over the past 10 squads to make the Finals, all 10 of them ranked in the top five in jump-shooting efficiency that season. All 10! Either these Lakers are going to shatter that baseline, get unexpectedly hot or watch their bricklaying tendencies end their season.
When the Lakers' jumpers are falling, they look unstoppable, but those kinds of games have been the exception. They won 23 of 25 games this season when they made at least 38% of their 3s, but they've done that in only three of their 12 games since the restart. They've been just as likely to be heinous from downtown, hitting fewer than 16% of their 3s in three of their 12 bubble games. That's too many stinkers, and if this team is going to win it all, it absolutely must tighten up its long-range consistency.
The Lakers' overall jump-shooting mediocrity is the result of a few bad apples. Only one of the team's most active shooters is even converting jumpers at league-average rates (51.3 eFG% in the bubble), and that's Kuzma. The other four guys on this list below aren't pulling their own weight. Unless some of them heat up, the Lakers' chances to come out of the West are slim.
Lakers most active jump shooters since the restart (per Second Spectrum)
LeBron James: 27-81 (48.2 eFG)

Anthony Davis: 27-80 (40.0 eFG)

Kyle Kuzma: 28-74 (53.4 eFG)

Danny Green: 18-54 (47.2 eFG)

Kentavious Caldwell-Pope: 15-49 (44.9 eFG)
One name on that table should raise an eyebrow.
Coming into this postseason, it was clear Davis was going to be the major X factor for this team. But if there's one number that continues to haunt Davis deep into his eighth season, it's his jump-shooting efficiency. While many of the league's other poor-shooting superstars endure endless ridicule, somehow Davis has largely escaped that fate. But his shot chart reveals a player who is dominant in the paint yet unreliable outside of it.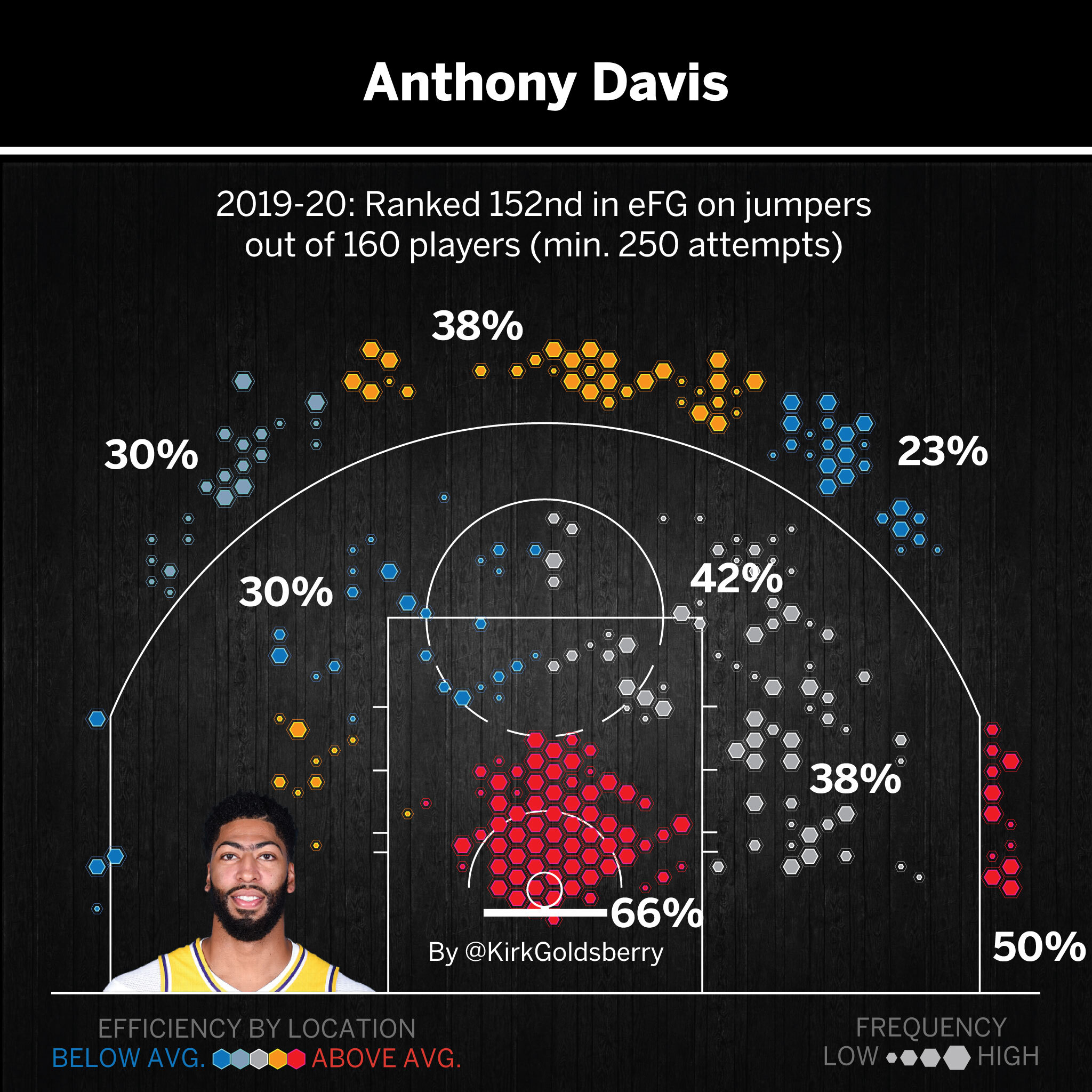 Davis is one of the most overwhelming physical presences in the league right now, but his jumper just isn't great. And his relatively high-volume midrange activity isn't helping matters either.
Davis' eFG vs. league average (via Second Spectrum)
Paint: 63.5 (Davis) | 56.1 (average)

Non-paint 2s: 37.1 (Davis) | 40.6 (average)

3s: 48.9 (Davis) | 53.8 (average)
The Brow's jump-shooting woes are a key issue that he has brought with him to Florida. Check this out:
Out of 160 players who tried at least 250 jump shots during the regular season, Davis ranked 152nd in efficiency with an eFG of just 42.8%.

Out of 47 players who have tried at least 75 jumpers in the bubble, Davis ranks last in efficiency (40.0% eFG). Markelle Fultz has been more active and more efficient.
Davis' shooting splits are emblematic of the Lakers as a group. While the Lakers rank first in points scored in the paint per 100 possessions and third in paint FG% among playoff teams since the restart, they rank last in both categories outside the paint. It's an alarming split in a postseason full of teams capable of beefing up their paint protection and daring the Lakers to beat them with jump shots.
Beyond the team's superstar duo, this roster simply lacks perimeter firepower. Yes, Green and Kuzma can be capable catch-and-shoot threats, but they've disappeared a few times already. It's fair to ask if the NBA is really a make-or-miss league, can the Lakers make enough jumpers to win this thing?
We'll get a better answer in the next round.
Source: Read Full Article